Lobby Lounge
The warm and inviting atmosphere of our lobby should be the first stop on your Georgetown culinary itinerary. Buzzy yet cozy, our Lobby Lounge sets the tone for D.C. locals and travelers to mingle over American bar food classics as they sip champagne, cocktails or coffee. An artful and glamorous setting, the Lobby Lounge is the perfect place to enjoy a curated menu of crafted signature cocktails and world-class wines paired with contemporary small plates and snacks.
LOCATION
2401 M Street NW
Washington D.C., 20037
HOURS
Thursday | 4:00 p.m. to 11:00 p.m.
Friday & Saturday | 4:00 p.m. to 12:00 a.m.
For the Table

Harvest Truffle Bread

16 hour-fermented focaccia truffle Genovese

15

Appalachian Cheese and Charcuterie Board

orange preserves, Belmont peanuts

30

Prosciutto & Hot Coppa Flatbread

cherry tomato, mozzarella, balsamic onions

20

Peperonata & Feta Cheese Flatbread

cherry tomato, sweet mini peppers, basil pesto

19

Appetizers

Beef Tartar (LF)

confit egg yolk, crostini

20

Grilled Lamb Chops (GF)(LF)

Malibu carrots, persillade dressing

30

Chef's Soup

grilled sourdough

14

Crab Cakes

espelette remoulade

24

Grilled Spanish Octopus (GF)(LF)

crispy potato, paprika aioli

24

Raw Bar

Half Dozen Chesapeake Oysters (GF)(LF)

mignonette, cocktail sauce

25

Half Dozen Colossal Shrimp (GF)(LF)

cocktail sauce

22

Light Plates

Maine Lobster Roll

bacon jam, tarragon aioli, brioche

26

Smoked Short Rib Tacos (GF)

queso fresco, pickled onion, roasted poblano crema

24

Baja Fish Tacos (GF)

pico de gallo, lime crema, avocado, red cabbage slaw

26

Roasted Vegetable Salad (V)

Lola Rosa, Malibu carrots, parsnip, fennel, gremolata dressing

20

Ancient Grain Salad

Arcadian lettuce, farro, quinoa, feta, heirloom tomato, cucumber, radish

20

chicken

12

salmon

18

shrimp

15

Mains

Georgetown Burger

applewood bacon, truffle aioli, house seasoning

26

Meatless Meatballs & Orzo (V)

plant-based meatballs, mushroom tomato sauce, vegan parmesan

28

Scallops Saffron Risotto (GF)

Nueskes pork belly, tomato broth

32

Ahí Tuna Poke Bowl (LF)

sushi rice, cucumber, avocado, edamame, nori, soy dressing

38

Roasted Cornish Hen & Seasonal Vegetables (GF)

sweet potato, beets, baby carrots, cipollini, chicken jus

39

Grilled Salmon (GF)

bourbon creamed corn

24

Local Harvest Cowboy Ribeye Steak (28oz.) (GF)

maître d'hôtel butter

83

Steak Frites

12oz 1855 black angus striploin, sauce au poivre

48

Sides
Sparkling

La Marca, Prosecco

Veneto, Italy

Veuve Clicquot, Brut

Champagne, France

G.H. Mumm, Brut

Champagne, France

Albert Bichot, Brut Rosé

Burgundy, France

Naveran, Brut Rosé

Cava, Spain

Chandon Brut Rosé

California

Thiénot, Brut

Champagne, France

Bollinger, Special Cuvee Brut

Champagne, France

Boizel, Brut Reserve

Champagne, France

Veuve Clicquot, Brut Rosé

Champagne, France

Gosset, Grande Reserve

Champagne, France

White

Cakebread

Chardonnay, Napa Valley

Cuvaison

Chardonnay, Napa Valley

Duckhorn

Sauvignon Blanc, Napa Valley

McBride Sisters

Sauvignon Blanc, New Zealand

Barboursville

Pinot Grigio, Virginia

Rosé

By. Ott

Côtes de Provence, France

Fleur de Prairie

Côtes de Provence, France

Whispering Angel

Cotes de Provence, France

Vie Vité

Cotes de Provence, France

McBride Sisters, Black Girl Magic

California

Red

Sterling

Cabernet Sauvignon, Napa Valley

Faust

Cabernet Sauvignon, Napa Valley

Ferrari Carano Siena

Red Blend, Sonoma County

The Prisoner

Zinfandel Blend, Napa Valley

Four Graces

Pinot Noir, Willamette Valley

Annabella

Pinot Noir, Sonoma County

Raymond R Collection

Merlot, California

Numanthia Termes

Tempranillo, Spain

Château Chapelle D'Alienor

Bordeaux Supérieur, France

The Prisoner

Cabernet Sauvignon, Napa Valley
Specialty Cocktail

Signature Beetini

Absolute elyx, st germain, rooftop Honey

20

Marked by Henny

Hennessy, Maker's Mark, honey, orange juice, lemon juice

24

Lavender Fields

Hendrick's, Lillet Blanc, lavender syrup, lime juice

22

Springtime Spritz

St. Germain, Aperol, grapefruit juice, prosecco

20

Cool Mule

Absolut Elyx, mint, cucumber syrup, lime juice, ginger beer

20

Strawberry Reserve

Woodford, strawberry Giffard, strawberry puree, basil, lemon juice

24

Mélange of 4

Maker's Mark, Carpano Antica, Aperol, Cointreau

20

On the Caribbean

Bacardi Spiced, Campari, pineapple juice, lime juice

20

Smoked Paloma

Casamigos Mezcal, Cointreau, lime juice, grapefruit soda

26

El Picante

Casamigos Blanco, Cointreau, mango puree, lime juice, tabasco

24

Gin Garden

The Botanist, lime juice, cucumber

22

Zero Proof

Mary Rose

Seedlip Spice, rosemary syrup, lemon juice

16

Spring Blues

Seedlip Garden, honey, blueberry, mint, club soda

16

Courtyard Smash

Seedlip Spice, strawberry puree, grapefruit juice, rhubarb bitter

16

Vacay Mode

Seedlip Spice, coconut Giffard, lime juice, grenadine

16

Beers on Draft

Port City Monumental IPA

Virginia

9

D.C. Brau Pilsner

Washington, D.C.

9

Beers by the Bottle

Blue Moon

Belgium White, Belgium

8

Corona Extra Pale Lager

Mexico

8

Dogfish Head 60min IPA

Delaware

8

Schöfferhofer Grapefruit Hefeweizen

Germany

8

Angry Orchard Hard Cider

Walden

8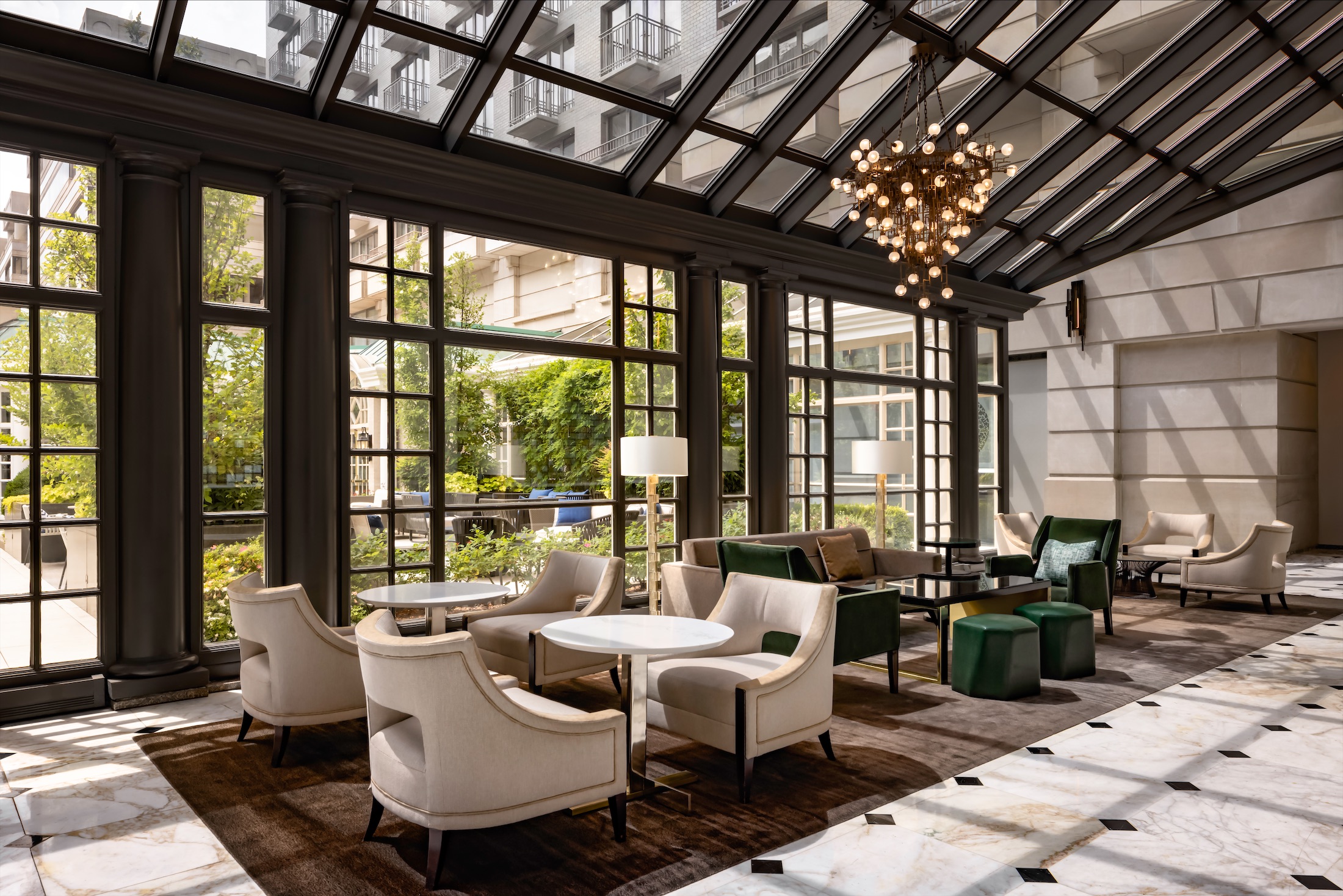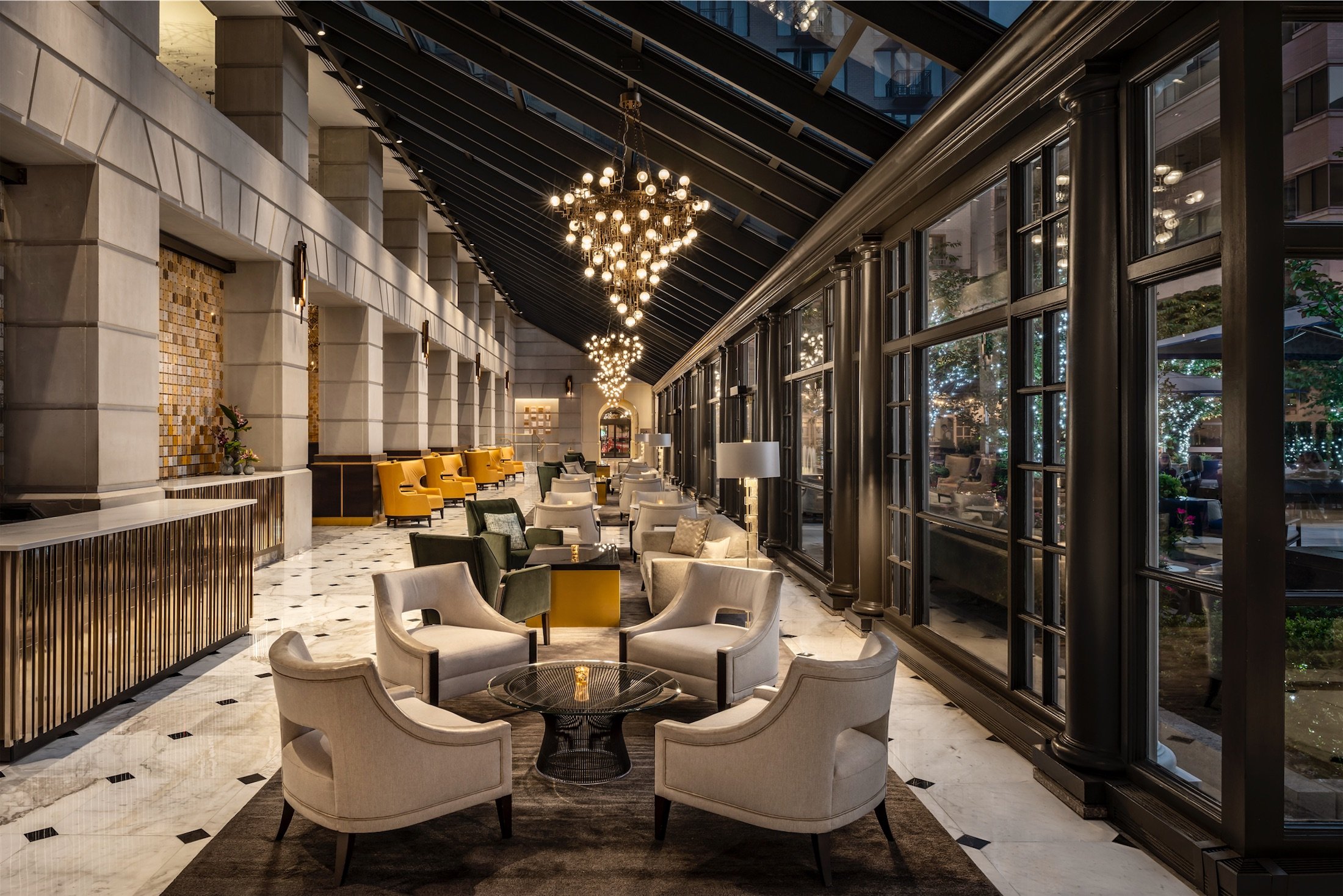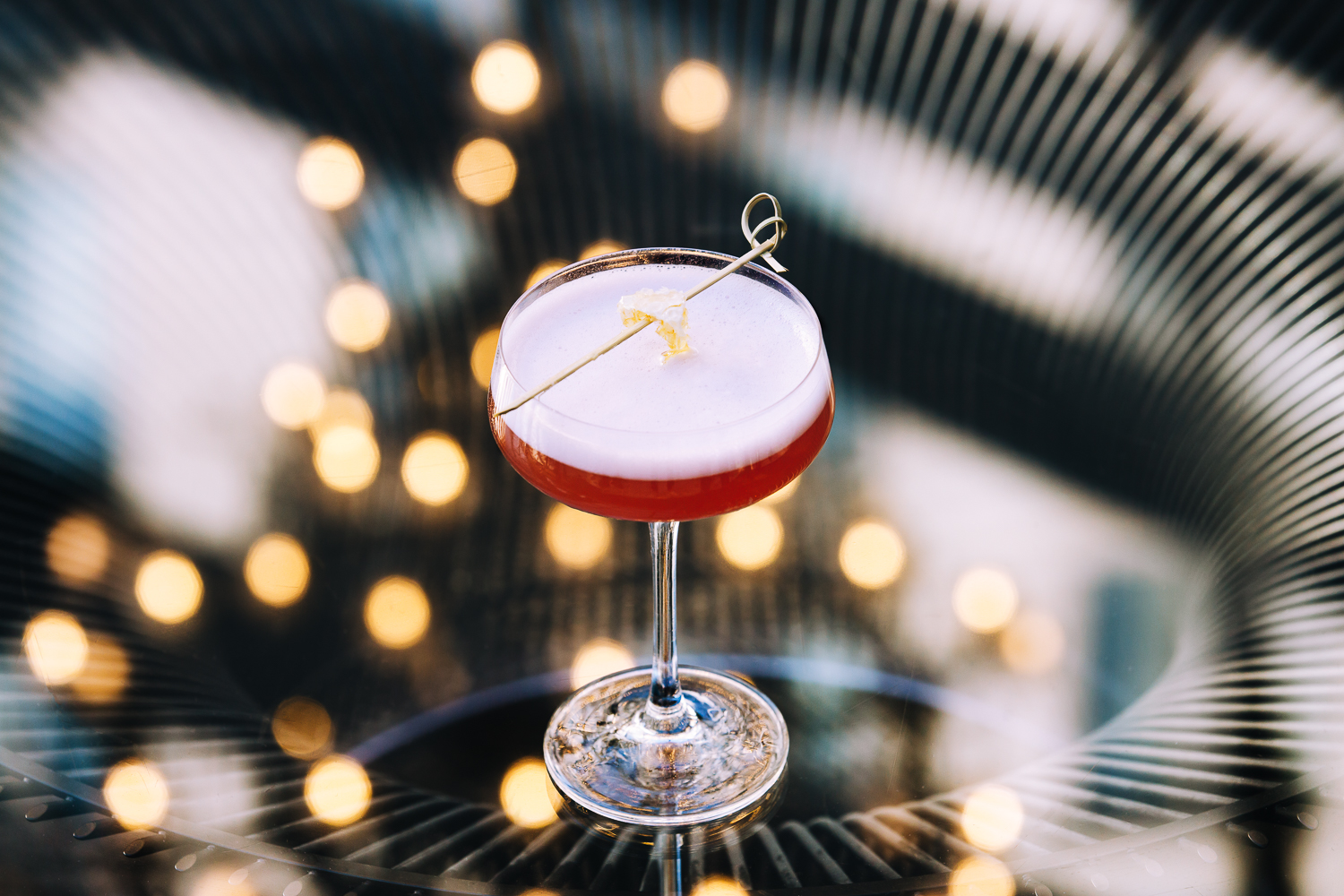 Exclusive Offers and Updates from Fairmont Washington D.C., Georgetown